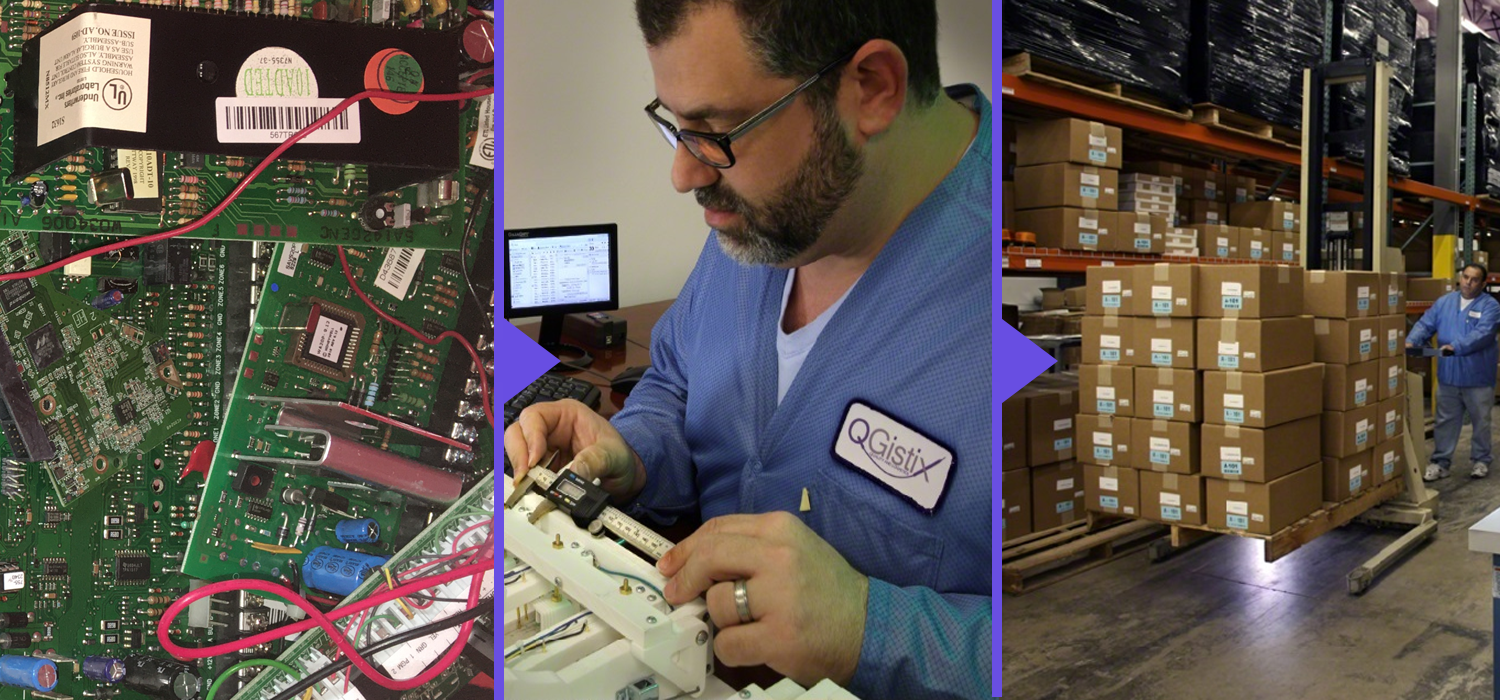 An Orderly Upgrade of Hundreds of Stores
Executive Summary
A name brand big box retailer needed to transition their video surveillance systems to the newest generation product, while maintaining a supply of legacy products to service the stores which have not yet been upgraded.
Accurately triage uninstalled product to separate serviceable units from unserviceable units
Professionally test, repair, refurbish, and repackage serviceable product
Responsibly manage all uninstalled product to avoid EPA violations and reputational risk
Provide rapid shipment of refurbished product to stores needing replacements
Challenges
Our customer was commencing a major transition of video surveillance equipment at their chain of thousands of big box retail stores in North America. The legacy product in their stores was long since out of production and replacement parts were mostly unavailable. The full transition of all stores was estimated to take two years, and during that time there would be no stock of service parts available to cover the frequent breakdowns the aging product line was experiencing.
The Green Wave Electronics Solution
Green Wave Electronics was invited to bid on the project based on its success of similar programs.
The Green Wave Electronics proposal included three programs seamlessly integrated to meet the customer's needs:

Reverse Logistics Program to receive the uninstalled parts coming from newly upgraded stores.
Test, Repair and Refurbishment Program to repair and refurbish serviceable units to like-new condition.
Distribution Program to rapidly ship refurbished parts to legacy stores needing replacements.
During a store upgrade, each store was provided a detailed SOP on how to uninstall and package their equipment to avoid collateral damage to the legacy product. The uninstalled product was then palletized and shipped to Green Wave Electronics.
Upon receipt, Green Wave Electronics unpacked each pallet and cataloged each part received, including the store number which returned the part. After cataloging, each part was triaged to determine whether a part was serviceable or not. Serviceable parts were dispositioned for test and repair, while the unserviceable parts were sent for R2 Recycling.
Serviceable parts were disassembled, thoroughly inspected (returned product included outdoor security cameras which were exposed to the elements), cleaned, reassembled, tested, repaired and retested as needed, refurbished to like-new condition, repackaged and moved to fulfillment inventory.
Our customer was set up to order the refurbished product directly from their locations. Orders placed by 2pm ET were shipped same day, with overnight option available for critical items.
Results
Our customer was easily able to set up a collection process for old equipment, at each store that was being upgraded. Old equipment was shipped to Green Wave Electronics, where it was efficiently cataloged and triaged. By returning 100% of the uninstalled equipment to Green Wave Electronics, the customer was able to eliminate the economic and reputational risk associated with improper disposal of their eWaste.

The remaining stores were able to order replacement legacy parts directly from Green Wave Electronics whenever there was a failure. Since these parts included security cameras, PTZ controllers, and DVRs (items critical to the stores' loss prevention program) critical downtime was kept to a minimum.

Additionally, had there not been legacy product available, stores with failures would not have been brought up to 100% capacity so quickly. Time-consuming retrofits of incompatible equipment would have needed to be located, ordered, and installed.